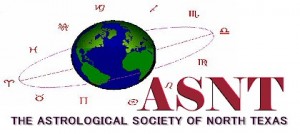 Welcome to our website!
THE NEXT MEETING IS Sunday, JUNE 9TH, 2013 at 1:15pm
RELATIONSHIP ASTROLOGY–THE ASCENDENT with Susie Patterson
The ascendent/descendent axis is also called the "I/Thou" axis, and includes all intimate/partnership issues.
In this program Susie will also touch on the use of counseling techniques in astrological sessions.
Susie Patterson combines her knowledge of depth psychology and astrological wisdom. Having received her Master's Degree in clinical psychology in 1975, she began her formal study of astrology in 1977. 
Subsequently, Susie also incorporated the East Indian form of astrology in her practice as well.  Known as "Jyotish", she has received advanced levels of certification in this ancient form of astrology.  Jyotish literally means "the science of light" in Sanskrit and it teaches us to live a more conscious life.  In addition, she has received training in both Native American and Celtic shamanism, in order to broaden her abilities to help and heal others.
Her approach is to consider each client as unique and deeply spiritual individuals on their own quest for bringing light into their lives. Susie receives clients both in her home office in Fort Worth, Texas and during the summer months in Santa Fe New Mexico.
We will be having snacks and drinks before and during the meeting so bring what you would like to share with others. We look forward to seeing you there!
The ASNT mission is a commitment to disseminate accurate information about astrology to our local community.
With the advent of the web, that community has expanded exponentially. We hope you find the information here both interesting and useful.
We meet the second Sunday of each month for social time and a program/lecture on some facet of astrology. Please see our Meetings & Events page for past and present meeting information.
Check our resources page for other recommended sources of information about the fascinating world of astrology.
Monthly meetings are held at:
1:00 pm
First Jefferson Unitarian Universalist Church ~1959 Sandy Lane ~ Ft Worth, Texas 76112